HVAC DESIGN CALCULATIONS
Benefits and Uses for the Homeowner, Builder, Architect, Hvac professional, and the Do-It-Yourselfer
Hvac design calculations, Manual J heat loss/gain calculation, Manual D duct designs, and Manual S equipment selection, are the ACCA approved methods for designing proper heating and/or air conditioning and ventilation systems (hvac).
These methods are rapidly sweeping across our country as the preferred methods to determine hvac equipment and duct system sizing, as well as other comfort systems, such as radiant floor heating.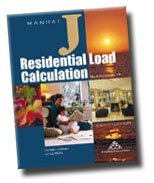 Each week more and more city building authorities are recognizing the benefits of ACCA's manual J, manual D, and manual S protocols. Code requirements are now demanding these protocols be implemented and followed as a requirement for a building permit to be issued.
In many areas of the country, a manual J heatloss/gain calculation, a manual D duct calculation, hvac duct schematic, and a gas line design must be submitted along with the building permit application.
This is why Perfect Home Hvac Design has come into existence.
Our residential hvac design calculations can be beneficial to the Homeowner, Builder, Architect, Hvac professional, and the handy Do-It-Yourselfer.
Benefits and uses for the Homeowner
Air flow problem solving. Why is that one room always colder than the others?
Getting ready to remodel? Now is the time to get everything right! Fix the problems you have lived with all these years.
The existing system never did work right. Improperly sized? Improperly installed?
Upgrading for increased efficiency? Systems must be sized properly or your purpose is not accomplished.
Know what you are paying for! Don't get taken to the cleaners at bid time.
Enjoy a truly well balanced comfort system, that responds when called upon!
Puts you in the driver's seat. Potential contractors will know you are serious about the system to be installed in your home!
When comparing bids, you will know that your potential contractors are all bidding the same system, from the same hvac design calculations.
Benefits and uses for the Builder
Know that your subcontractor's are all bidding installation of the same system! Apples-for Apples.
Buys time! Get your permits before committing to an hvac contractor for the installation.
Better installation at a cheaper cost. The design is done! Your contractor can now spend his time on the installation, instead of in his office fumbling through a design.
Benefits and uses for the Architect
Another quality option you can offer the discerning client
Know where the duct fir-downs and equipment will be located in your client's home now. Any structural changes can be anticipated early! Saves everyone time and frustration!
Your client will appreciate your thoroughness!
Benefits and uses for the Hvac professional
No guess work. The calculations tell you the system and room-by-room requirements.
Outsourcing your designs will keep you out in the field, where you make your money.
Balancing is less of an issue. Each room, duct, register, and grille is sized for optimal balanced delivery.
Customer confidence. When your customer knows the extra work you are putting in so their new system will be perfect.
Outsourcing your designs is less expensive than doing them yourself. A good design is labor intensive.
Benefits and uses for the Do-It-Yourselfer
Save bucks! Those labor costs stay in your pocket!
Equipment sizing is done for you!
All duct sizing is done for you!
You will have a duct schematic showing where all components of the system belong.
You can concentrate on the installation instead of the paperwork! You will have in hand the reports wanted by your building inspector.
Bragging rights! I did it myself and it performs superbly!
System done your way, not their way!
With the money you are saving doing the system yourself, you may be able to afford the better, more efficient option?
Visit "The Hvac Purchaser's Dilemma: Design First or Regret It Later"
See examples of our Manual J calculations
Read more about the Manual J Software we use
Visit Wrightsoft's website
Return to "Hvac Design Calculations - Why" page

Leave "Hvac Design Calculations" and Return to HOME




Please feel free to link to this page from your website. This page's URL is: http://www.perfect-home-hvac-design.com/hvac-design-calculations.html