CHOOSING A COMPETENT HVAC CONTRACTOR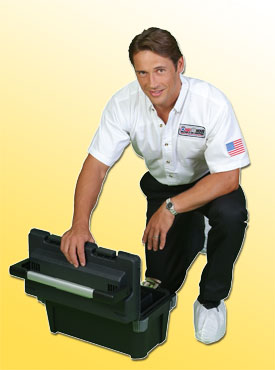 Well, I see you have made it all the way here to "Choosing a Competent HVAC Contractor". Are you ready to start those Contractor interviews?
Roll up your sleeves, and let's get to work! This decision is one of the most important decisions you will make regarding your home. If your furnace doesn't perform well, you will be miserable in the winter. If your air conditioner doesn't perform well, your summers will be unpleasant.
There are plenty of competent hvac contractors out there capable of providing top notch comfort systems, at a reasonable rate. They care about their trade, their customers satisfaction, and strive to always provide a superior product. We just gotta figure out who is who!
There are also some hvac contractors out there who have no business "being in business!"
You may have already met, or read my earlier pages about the "point and grunt" guy, the "rule of thumb" guy, and the "cheap" guy. You will recognize these guys when you are meeting prospective contractors. Send these guys packin' when they tell you that a load calculation is not necessary.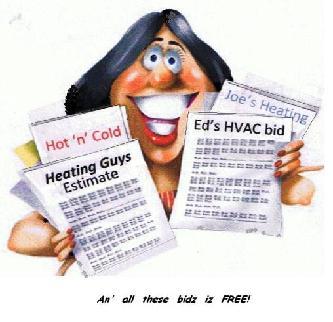 When it is time for a new comfort system, heating and/or air conditioning, we recommend 3 or 4 bids. Don't hurry! Be patient.
Get as many bids as you need to feel confident about your decision before proceeding.
The ACCA (Air Conditioning Contractors of America) have a similar page titled: "Choosing the Right Contractor". Well worth the time to read!
Many of the items, or suggestions, listed below are also echoed on our Quality Installation Checklist. The checklist makes suggestions for before your purchase (combine with this page), then lists items to look for during and after your installation. Link to the Checklist below.
Remember, you are dangerous now with the knowledge you are armed with!



Your initial meeting with your prospects should cover:
Credentials: Is the contractor licensed?
How many years in business?
Insured? General liability and Workman's Comp. (most important if a worker is injured on your property)

Is contractor affilliated with a nationally recognized equipment manufacturer?
Is contractor willing and able to provide recent references?
Does the contractor take the time to explain the importance of performing a load calculation? Did he thoroughly evaluate your duct system, measure rooms and windows, and check attic and crawlspace insulation? (the manual J calculation is generally done at the office on a computer, which means that a second meeting will probably be necessary.)

Ask for a copy of the load calculation
Is the contractor knowledgeable about his equipment line and warranties?
Is the contractor knowledgeable about tax incentives and rebates which may be available to you?
Are the hvac contractor's installers certified? (Nate, Rses, EPA-required since 1992 to work on or install air conditioners)
Is the contractor associated with any professional trade organizations? (Acca, Ashrae, Rses)
Energy Star rated equipment. Did your prospect discuss with you efficiencies and recommend equipment which will cost less to operate?
Did the contractor discuss the importance of regular maintenance and offer a maintenance program, if they do the install?
Does the contractor have a 24/7 emergency service department? (breakdowns always happen at the worst possible time!)
Did the contractor provide a written proposal?

install dates
complete cost with terms
all equipment specified
cost of add-ons such as duct alterations
warranty information

Get it all in writing before any work begins. A formal contract signed by both parties is essential.


Return to Furnace page

Return to Air Conditioning page

Rate your HVAC contractor with this Quality Installation Checklist

Another View: Choosing Your Air Conditioning Contractor ... by Carolyn Ethington

A New Home Design Needs a Good Heating Contractor ... by Nick Messe




Please feel free to link to this page from your website. This page's URL is: http://www.perfect-home-hvac-design.com/hvac-contractor.html