RADIANT FLOOR COVERINGS
Choose Coverings to Enhance, Not Limit, the Performance of Your Heating System
Electric floor radiant
Some areas or regions have extremely high natural gas and propane prices. In these regions, electric floor systems are becoming extremely popular. Electrical power providers may have an off-peak price break. If your electric radiant floor heating system is installed over a large thermal mass, such as concrete or gypcrete, you can take advantage of the storage characteristics of the thermal mass. Your system can be programmed to provide more heating into the slab during the off-peak hours and operate less during peak usage times.
Floor coverings - electric or hydronic systems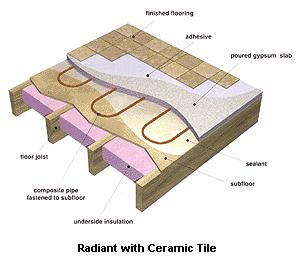 Whether your radiant floor heating is an electric system or a hydronic system, the best performance can be achieved by installation over or imbedded in a thermal mass (concrete or gypcrete), and then a ceramic tile floor finish laid over the system.
Ceramic tiles are the most popular of radiant floor coverings chosen for a radiant system. Ceramic tiles allow the heat to pass through and still add to the thermal storage capabilities of the thermal mass.
Other radiant floor coverings are often successfully utilized: linoleum, vinyl, and hardwoods.
If you are building a new home or remodeling, a radiant floor heating system should certainly be considered for your heating needs. Many people that have lived in a radiant home cannot imagine going back to a forced air heating system. If air conditioning is to part of your renovation though, you will still need a forced air system to deliver your conventional AC.
Carpeting With radiant floor heating?
This is where many homeowners make mistakes. Carpeting and carpet pad are thermal insulators. Too often, the radiant floor is designed to provide heat, anticipating a different floor covering and then is covered by carpeting.
If planned for in the beginning, radiant floor heating can work well with carpeting, within certain limitations. The R-value, or insulation value, of the carpeting and pad must be considered. The higher the R-value, the harder your radiant system must work to provide your comfort. Usually padding has a higher R-value than the carpet, although thickness of the carpet must be considered, as well. The R-value of the padding for the same thickness may vary depending upon it's construction materials.
If planning carpet over a radiant floor heating system, you should be expecting to limit your carpet and pad choices to thinner and less dense products.
Your floor heating designer/installer must be aware of your floor covering choices before he embarks on your design or installation. You must also be confident that your designer is skilled in designing a system, which is capable of overcoming the limitations placed upon it by the added thermal barrier.
Your floor heating designer/installer must be knowledgable enough to help guide you through your carpet and padding selections.