NEW and UNIQUE HVAC PRODUCTS:
Monthly Review of Hvac Products Pushing the Edge of the Envelope
Each month (or more often), here on our Hvac Product Review, we will highlight a particular piece(s) of hvac equipment, or literature, or an idea, which we find to be unique, interesting, or have great potential for the advancement of the Heating and Air Conditioning industry.
If you would like to contribute ideas or products to appear on our Hvac Product Review, or to submit your own critique or recommendation of the highlighted item, please see link below.

THE NEW LENNOX SLP98V FURNACE
98% EFFICIENT VARIABLE SPEED
The Quietest and most Efficient Furnace Available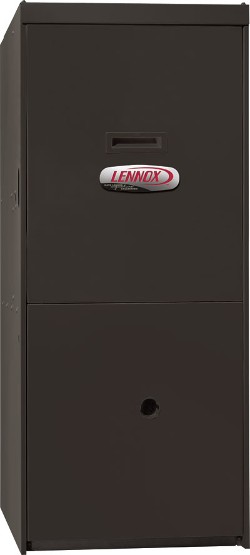 With an industry leading AFUE rating of up to 98.2%, the new Lennox SLP98V variable capacity gas furnace delivers the efficiency, quietness, and comfort you and/or your customers want. Installation and service are easy.
Like cruise control for home comfort, the SLP98V furnace features exclusive PreciseComfort technology that continually makes seamless adjustments as small as 1%, while improving overall efficiency.
When combined with the advanced engineering of Lennox SilentComfort technology, homeowners are getting the quietest and most efficient furnace they can buy. And when properly matched with a high-efficiency cooling or heat pump system, the SLP98V will provide up to 1 SEER point improvement. Thanks to it's highly efficient performance, the SLP98V also qualifies for up to $1,500.00 in U.S. federal energy tax credits - and may be eligible for additional credits and rebates. A dual-fuel option allows for seamless alternation between energy sources, depending on the weather.
The compact design allows you to use larger high efficiency coils where space is tight. Venting is out of the cabinet top for more installation flexibility. A self-calibrating variable speed inducer provides industry leading vent lengths with no special elbow requirements. The sealed blower compartment minimizes losses to less than 0.75% leakage at 1.0" external static pressure. Service access is easy, with front facing screws for igniter and flame rod service. Direct read-out diagnostics help you quickly identify service issues.
Visit Lennox Industries Consumer Website



Hvac Product Review or comments none posted to date

Submit a new review or comment please click here

Visit our Product Archives page


Depart our Hvac Product Review and Return to HOME




Please feel free to link to this page from your website. This page's URL is: http://www.perfect-home-hvac-design.com/hvac-product-review.html