RESIDENTIAL HVAC DUCT DRAWINGS
Article contributed by: Geoffrey R. Stoddard, Hvac Designer / Detroit, Michigan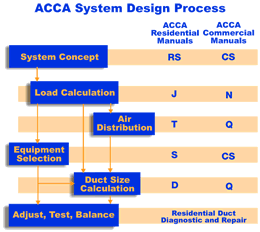 Residential HVAC Duct Drawings
Initially for your hvac duct drawing you should start with a simple sketch. From here you will begin to notice obstructions that your ductwork must get around, and different ideas for duct routing, which will work better for fir-downs and final finish.
Your duct drawings should have notations explaining each component of the system, such as outside air if planned for the system. All aspects of the planned system should be noted.
Are you planning to zone the system? Note thermostat locations in each zone. Draw the additional trunk lines showing the branch lines from each zone trunk on your hvac duct drawing. This phase will make you think about damper locations. Dampers need to be accessible for future service. The best location for dampers and serviceability is the mechanical room, but this also means that each zone trunk will need to originate from the mechanical room.
Documenting the entire hvac system will make you think about aspects of the system you had not thought of.
A working set of hvac duct designs is the result of many hours of work. Whether those hours are yours, or your designer's time, only brainstorming and plenty of time will achieve a workable design.
Accuracy is important! A wise man once said, "Even God, the repository of Love, cannot love the most beautiful of drawings, of the wrong machine."
If you are not much into hand drawing the designs, there are plenty of software tools available, such as AutoCad. This software will allow you to draw your floorplan, insert cabinets, sinks, fireplaces, and even furniture. Then you can draw your hvac system to fit best with your furniture layout. But remember, this is just the basic layout of your system. At this point, your ducting has not even been sized!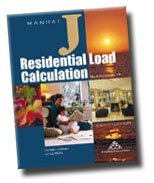 Sizing your ductwork and equipment the right way, will entail following accepted ACCA standards. The manual J and manual D procedure books will take you through the steps to properly size your system. These manuals are available from the ACCA website. Attempting to do a manual Manual J calculation and a Manual D calculation can be a tedious, time consuming project.
(One man's opinion) If you were to put a dollar value to your own time, and purchase the required manuals, you would definitely be money ahead by hiring your designs done by a professional!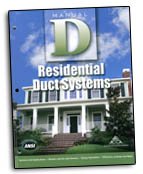 Also, undertaking this process as a novice can be a hair-pulling experience!
Hvac design software, such as Wrightsoft right-suite Universal , provides your manual J calculations, your equipment choices, and sizing. Your finished duct designs can also be provided by the software. There is a steep learning curve to use this software.
A finished duct design takes considerable time and considerable brainstorming. Then comes decision time. Do you trade performance for a lower cost? Will the lower cost system still deliver acceptable comfort levels?