HVAC FOR BEGINNERS
The Residential Forced Air Duct System: Typical Trunk and Branch Duct Systems
This Hvac For Beginners section begins here with a discussion about forced air duct systems, the basics, the how and why of duct sizing.
Ductwork is simply an air delivery system. A delivery system for all forced air systems, furnace or air handler, heating or air conditioning, or both.
Duct delivers fresh air and humidification into your home. Ductwork is the channel through which the air in your home is filtered and purified, or expelled to the outdoors and replaced with fresh new air.
Each component of the ducted air delivery system, from the air handler to the registers, adds a certain amount of resistance to the airflow. This resistance is friction loss.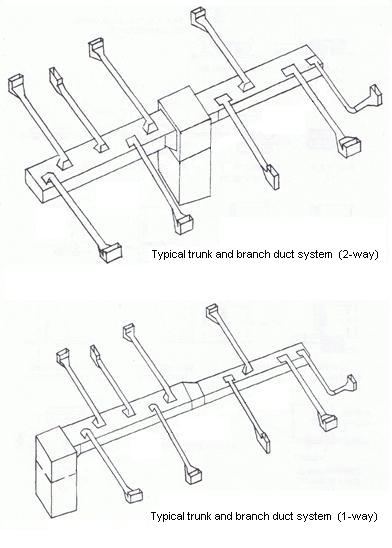 Manual J gives us the room-by-room airflow requirements. Manual S gives us the blower that will provide the required airflow. Manual D provides the ductwork sizing to ensure balanced airflow all the way to the registers.
All duct fittings, ells, tees, reducers, take-offs, etc., add a certain amount of friction loss to an hvac system. Even the straight ductwork in a system adds a certain amount of friction loss.
Calculated friction loss equates to equivalent duct length. Manual D takes each component's equivalent duct length and adds them together for TEL (total equivalent duct length).
Manual D then sizes all ducting for the system accounting for the TEL.
Above and below are examples of simple hvac duct systems. The diagram above illustrates the fact that the air handler may be centrally located (preferred), or located elsewhere dependent upon the configuration of your home. Duct sizing for the two examples would certainly be very different.
The three example systems pictured on this page are all typical upflow configuration, which comprise about 85% of forced air systems in our homes. Other fairly common systems can be underslab or crawlspace, with a counterflow (or downflow) air handler, attic or crawlspace systems with a horizontal air handler. The ducting is actually quite similar.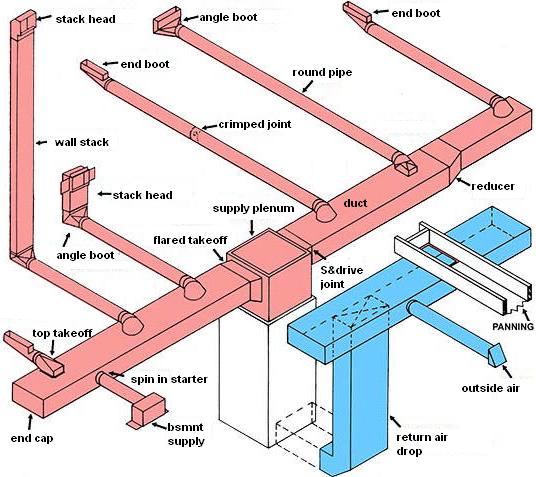 Basic Duct System Components
Supply Plenum - usually on top of air handler for the initial distribution of conditioned air through connected ductwork.
Return Air Drop - brings air from living space to air handler for conditioning and re-distribution.
Flared Rectangular Take-off - connects to plenum to start ductwork.
Reducer - usually 3 or 4 supply branches are connected to main trunk before a reducer changes duct size. Can be rectangular, square, or round.
Top Take-off - connector for round branch lines to connect to main supply trunk. Can be square-to-round, oval-to-round, or round-to-round. Often are used as side take-offs also.
Boots - delivers conditioned air into living space and houses the register.
Stack head - a boot for a wall register.
Wall stack - ductwork inside a wall to feed a stack head.
Panning - flat metal nailed to joists for return air.
Outside Air - Often a free flowing outide air is tied into the return ducting to keep some fresh air introduced into the residence. In extreme climates this ducting must be insulated, or condensation will occur.
Organizations governing Hvac design, installation, and ductwork standards are ACCA , ASHRAE , and SMACNA. (click to visit their sites)



Other Related "Hvac for Beginners" Pages
Residential Hvac Duct Drawings - by Geoffrey Stoddard, Detroit, Mich.

Plenums and Return Air Drops

Duct Fittings: Ells, Tees, and Reducers

Rectangular Side Take-offs and Vertical Ells

Multiple Fittings in a Duct System

Basic How-To Ductwork Installation



Return to Duct Design main page

Leave this "Hvac for Beginners" page and Return to HOME

Please feel free to link to this page from your website. This page's URL is: http://www.perfect-home-hvac-design.com/hvac-for-beginners.html